Family Sport is a company which deals with catering and organizes sporting events.
It was founded by the Djokovic family on 19th December 2005.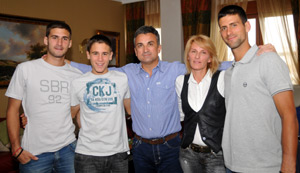 Their plans and ambitions are focused on the realization of major projects, such as keeping the restaurant, catering, opening the tennis centre and the organization of an ATP tournament.
"Novak" Restaurant in New Belgrade has been present there since 2008. They have built their position among customers by high quality service. The international cuisine restaurant with an extraordinary combination of different flavours, authentic interior and excellent service make it unique and favourite among all generations.
In that same year, Family Sport got HACCP system certification in all "Novak" restaurants and "Novak Catering".
The biggest project of Family Sport is the organization of the first Serbian ATP tournament, Serbia Open, which was held in Belgrade from 2009 to 2012.
Novak Djokovic Foundation was established in November 2007 by the Serbian tennis player Novak Djokovic, and until 29th February 2012 it existed under the name of "Novak Fund".
Since its earliest days the Foundation has supported various projects, including: funding the maintenance of Serbian monasteries and churches (considered as national, cultural and historical monuments); donation of ambulances for Kosovo communities affected by the war; financing travel expenses of young Serbian talents during the participation in international competitions (tennis and music competitions); providing financial support to sick children in Serbia for their treatment abroad; financial support for children who lost their parents in the war; financial support for the municipalities of Loznica and Kraljevo destroyed during the floods and earthquakes so that they can rebuild their infrastructure.
Family Sport, in the spirit of its company name, fosters values that characterize a harmonious and successful family, and in accordance with the brand name Novak it points out the quality and persistence in order to keep the leading position in the field in which it operates. Both now and in the future it will run its business as a socially responsible company by raising awareness of the importance of sport, supporting sportsmen and organizing tournaments, as well as providing support to those who need it most.